California healthcare facilities are in urgent need of medical, nursing, behavioral health and emergency professionals to assist with the surge in demand associated with the COVID-19 outbreak. These include both existing healthcare systems and clinics as well as new, temporary facilities being used for overflow from acute care settings and COVID-19 dedicated inpatient units for hospitalizations.  The Medical Board of California and the California Board of Registered Nursing as well as other CA healthcare licensing authorities are asking for all formerly licensed professionals in CA to respond to this call to action to defeat the COVID-19 virus.
The California Health Corps  first verifies your professional medical or healthcare license and then matches you with available facilities seeking personnel. OnwardCA.gov  is also another source of paid positions across the state of California for those who have lost their jobs due to the COVID-19 pandemic including jobs for licensed nurses and healthcare workers.
California Healthcare License Reinstatement to Assist with COVID-19
If you are a retired or unlicensed California health care provider or worker or a behavioral health professional, now is the time to get your license reinstated so that you can work, be paid and eligible for malpractice insurance while doing valued work in the profession you trained for. This includes:
Physicians (MD, DO) including medical residents
Nurses (RN, LVN, CNA) including nursing students
Nurse practitioners
Physician assistants
Pharmacists
Dentists
Behavioral health professionals (psychiatrist, psychiatric technicians psychologist, psychiatric nurse practitioner, LCSW, LMFT, LPCC)
Respiratory therapists
Paramedics
Medical assistants
Emergency medical technicians
Eligible CA healthcare professionals must be 18 years of age and eligible to work legally in the U.S., have a valid driver's license or passport, and a social security card and either a valid California License for clinical practice or have no negative licensure/certification actions.
If you are a healthcare professional who wishes to assist those in need but are currently unlicensed or due to previous licensing board actions, our offices are here to help you. If you have negative licensure/certification actions, our offices at Lucy S. McAllister Licensing Law can assist you get your medical or healthcare license reinstated so that you can practice your profession again.
Retired Physicians: Health Care Professional Disaster Response Act
California's 2010 Health Care Professional Disaster Response Act further provides that during times of national or state disasters, physicians and surgeons whose retired licenses with the Medical Board of California have been expired for less than five years may re-apply for active licensure by:
Submitting an application with the Medical Board
Providing documentation that the applicant has completed certain required continuing education for each renewal period during which the applicant was not licensed
Completing a set of fingerprints with the fee required for processing those fingerprints.
Licensing fees for applications are waived
All licensed medical and healthcare professionals and medical students have to first register in the California Healthcare Corps your licensing credentials are verified after which all professionals must submit an application stating their preferences for deployment (role, geography etc.).
The Honorable Governor of California, Gavin Newsom, declared a State Emergency in California on March 4, 2020 and included in that declaration the waiver of a host of California licensing requirements associated with the COVID-19 pandemic:
Waiver of CA licensure requirements for out-of-state healthcare practitioners: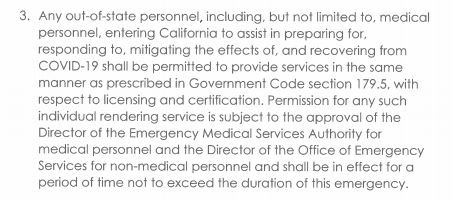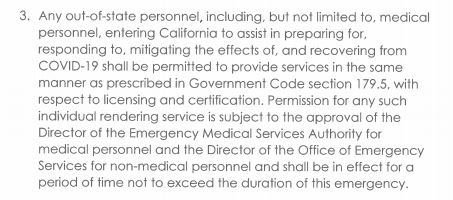 Waiver of Facility Licensure requirements: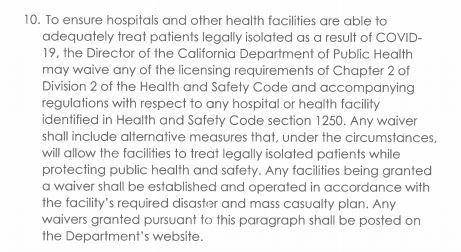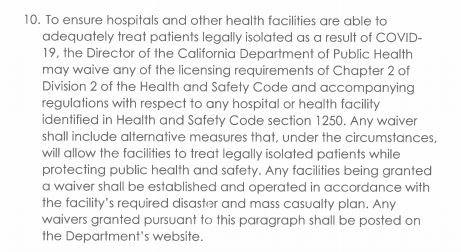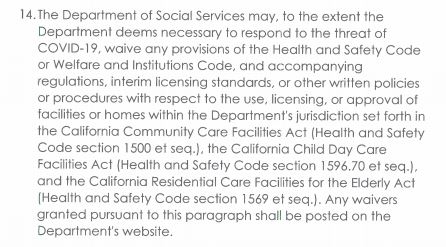 Waiver for EMTs:


Our offices at Lucy S. McAllister Licensing Law stand ready to assist California Healthcare professionals who wish to reenter the workforce and reestablish their right to practice their medical, nursing, behavioral health or emergency provider professions at a critically important time as the result of the COVID-19 pandemic.
The Law Offices of Lucy S. McAllister are knowledgeable about submitting successful petitions for reinstatement. If you have a California medical, nursing or healthcare license that has been disciplined, or had a license that was revoked or suspended, we will work to seek reinstatement of your license, and/or to modify the discipline that was previously rendered by your licensing authority.
Contact us today for a consultation about your specific case for license reinstatement.