If you are a licensed California healthcare professional, you know how important it is to not receive a medical malpractice or other adverse civil or criminal accusation or judgement against your medical or healthcare license. But did you know that these actions can result in a report being filed by your licensing authority, health plan, health care organization or malpractice payor against you with the National Practitioner Data Bank (NPDB)?
Being listed on the NPDB can negatively impact your career – permanently as virtually all hiring organizations in healthcare query this database before making hiring decisions. Even worse, NPDB reports are permanent and cannot be "expunged". A negative report associated with a provider on the NPDB database due to a civil or criminal action reported by their licensing authority can mean the end to a healthcare provider's career opportunities.
Did you know? The most commonly reported professions to the NPDB are nurses. There were approximately 20,000 reports regarding adverse actions on the licenses of registered nurses (RNs) or practical nurses (PNs) made to the NPDB nationally in 2014, 2015, and 2016.
What is the National Practitioner Data Bank?
The National Practitioner Data Bank (NPDB) is a confidential online database of reports detailing medical malpractice payments and certain other adverse actions related to health care practitioners including federal and state licensure and certification actions and any adverse actions related to clinical privileges at a healthcare facility.
The NPDB was created by Congress in 1986 with the primary goals of improving health care quality, protecting the public and reducing health care fraud and abuse by seeking to prevent health care providers and other entities from moving from state to state without disclosing previous infractions related to damaging or incompetent performance. The NPDB merged with the Healthcare Integrity and Protection Data Bank (HIPDB), another health regulatory database, in May of 2013. The NPDB operates under the authority of Title IV of the Health Care Quality Improvement Act of 1986 (HCQIA), Public Law 99-660 and under Sections 1921 and 1128E of the Social Security Act.
In 2017, the NPDB received more than 78,000 new reports and provided more than 7.8 million query responses (Quality Care is Safe Care, 2018).
Mandatory Required Reporting to the NPDB
Health Centers are only required to report clinical privileges actions taken against physicians and dentists; however, they may report clinical privileges actions taken against other types of practitioners. Medical organizations, licensing boards and authorities, health plans and malpractice payers are required to report the following to the NPDB:
Medical malpractice payments
Federal and state licensure and certification actions
Adverse clinical privileges actions
Adverse professional society membership actions
Negative actions or findings by private accreditation organizations and peer review organizations
Health care-related criminal convictions and civil judgments
Exclusions from participation in a Federal or state health care program (including Medicare and Medicaid exclusions)
Other adjudicated actions or decisions
Failure to report automatically results in still penalties under Title IV including:
Malpractice payers failing to report medical malpractice payments are subject to a civil penalty of up to $23,331/payment.
Hospitals or health care entities failing to report adverse actions will have its name published in the Federal Register, and the organization will lose its immunity from liability under Title IV with respect to professional review activities for a period of 3 years, commencing 30 days from the date of publication in the Federal Register.
State Medical or Dental Boards that fail to submit reports of adverse actions can have the responsibility to report removed by the Secretary of HHS.
Professional medical societies that fail to report adverse membership actions can lose immunity protections provided under Title IV for 3 years.
Health plans failing to report adverse actions required to be reported to the NPDB shall be subject to a civil money penalty of up to $39,811 for each adverse action not reported.
Finally, the Secretary of HHS publishes a public report identifying any government agency failing to report adverse actions as required.
What Actions Are Reportable to the NPDB?
Both criminal and civil actions are reportable to the National Practitioner Data Bank within 30 calendar days of the date the action was taken:
Federal and State Criminal Actions
A criminal conviction against a health care practitioner, provider, or supplier is reportable to the NPDB when it is related to the delivery of a health care item or service and includes:
A conviction entered against the individual or entity in a Federal, state, or local court, regardless of whether there is an appeal pending or whether the conviction or other record relating to criminal conduct has been expunged.
A finding of guilt against the individual or entity in a Federal, state, or local court.
A plea of guilty or nolo contendere by the individual or entity accepted by a Federal, state, or local court.
A case when the individual or entity has entered into participation in a first offender, deferred adjudication, or other arrangement or program where judgment or conviction has been withheld.
Health care-related injunctions also must be reported.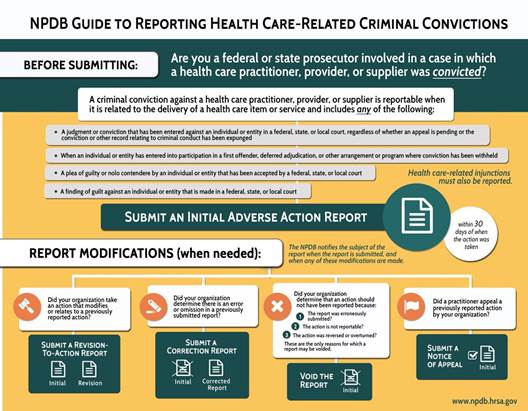 Civil Actions
A civil judgment against a health care practitioner, provider, or supplier is reportable to the NPDB regardless of whether the judgment is on appeal, when it is related to the delivery of a health care item or service.
For multi-party suits:
A government agency in a multi-party suit must report the entire action, including all amounts awarded to all claimants, both public and private.
If a government agency is not a party, but there are multiple health plan claimants, the health plan with the largest award must report the total action for all parties.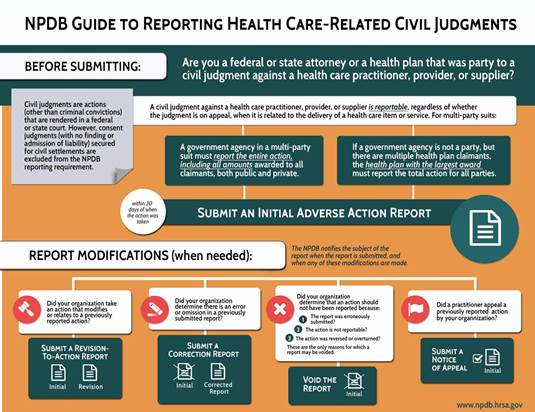 How Being Listed on the NPDB Can Impact Your Career
Licensed Health Care Practitioners who are reportable in the NPDB include chiropractors, dental health practitioners, dieticians, emergency medical technicians, eye and vision practitioners, nurses and nurses aids, pharmacists and pharmacy practitioners, physicians and physician assistants, podiatrists, psychologists, rehabilitation providers, respiratory and restorative practitioners, social workers, speech, language and hearing practitioners, technologists – among others.
State Authorities that License Health Care Practitioners (as well as state medical boards of examiners) typically query the NPDB to vet renewal of provider licenses and health care organizations often query this database before making hiring and staffing decisions.
State licensing boards must report certain actions taken against health care practitioners, entities, providers, or suppliers to the NPDB under the authority of Section 1921 and Section 1128E of the Social Security Act.
Generally, adverse state licensure actions that are reportable to the NPDB meet 3 criteria:
⦁ Adverse actions taken against health care practitioners
⦁ Adverse actions that result from formal proceedings
⦁ Adverse actions that are publicly available (NPDB, 2015, pages E-57–E-58).
An adverse action taken by a Board of Nursing, for example, includes:
⦁ Revocation or suspension of a license
⦁ Reprimand
⦁ Censure
⦁ Probation
⦁ Any dismissal or closure of a formal proceeding because the nurse surrendered the license or because the nurse left the jurisdiction
⦁ Any other loss of license, or the right to apply for, or renew, a license of the health care practitioner, whether by operation of law, voluntary surrender, nonrenewal (excluding non-renewals due to nonpayment of fees, retirement, or change to inactive status), or otherwise (NPDB, 2015, page E-58).
For state licensure actions, a wide range of organizations (both licensing, professional and hiring) can query the NPDB regarding a specific healthcare provider:
⦁ Hospitals and other health care entities
⦁ Professional societies with formal peer review
⦁ Quality improvement organizations
⦁ State licensing and certification authorities
⦁ Agencies administering federal health care programs, including private entities administering such programs under contract
⦁ Federal licensing and certification agencies
⦁ Health plans
⦁ State law enforcement agencies
⦁ State Medicaid fraud control units
⦁ State agencies administering or supervising the administration of state health care programs
⦁ Federal law enforcement officials and agencies
⦁ Practitioners, entities, providers, and suppliers (self-query)
⦁ Researchers (de-identified, statistical data only) (NPDB, 2015,p. C-8).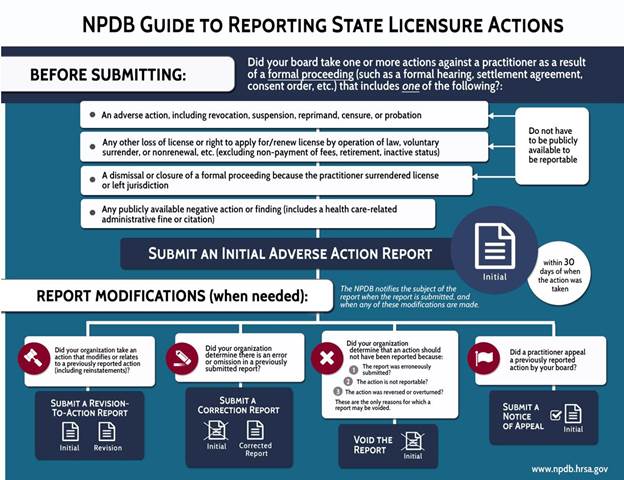 Hospitals are the only health care entities mandated by federal law to query the NPDB when physicians, dentists, and other health care practitioners apply for medical staff appointment (courtesy or otherwise) or for clinical privileges, and then every two years thereafter. Health Centers, however, often query the NPDB to review a wider range of health care practitioners when making hiring decisions as many Health Centers choose to report clinical privileges actions taken against other types of practitioners such as nurses.
Reports in the NPDB do not expire. Information reported to the NPDB is maintained permanently, unless it is corrected or voided from the NPDB by the reporting entity or by the NPDB as a result of the Dispute Resolution process. reporting entities, including medical malpractice payers, are required to report adverse actions taken against any health care practitioner.
An expungement of an action by state law removes the action from the nurse's state public record, however the NPDB does not recognize state expungements. Therefore, a state expungement is not a reason to void the NPDB report.
There is one strategy which is full-proof for avoiding a report in the National Practitioner Data Bank, avoiding a negative state licensing action.
If you are a California healthcare professional under investigation for a license violation or who has applied for a professional license with past criminal convictions, you should call the Law Offices of Lucy S. McAllister immediately. Our law professionals have successfully represented a wide range of California healthcare licensees and we are experienced in handling all types of licensing accusations and licensing issues as well as criminal cases and we can ensure that you mitigate against being reported to the NPDS.
Let us help you protect your professional license, your reputation, and your livelihood.
For additional information or to schedule a consultation on a professional licensing issue, please contact our law offices today at (877) 280-9944